OKdo from Electrocomponents
Discount.
20% off £100, Redeem Coupon Code OKDO20100 at ckeckout - Terms apply, Ends 30th June 2021
Shop now and get 20% OFF £100

OKdo is a global technology company from Electrocomponents. OKdo offers a unique combination of hardware, software, development support, manufacturing services and community projects.
Focusing on manufacturing and distributing some of the biggest single-board computer brands, such as Raspberry Pi, Arduino, BeagleBone, Piper Education, NVIDIA, Bare Conductive and many more, OKdo has a large ecosystem of partners, bringing customers leading technology solutions.

Raspberry Pi 4 Starter Kit
Raspberry Pi's are compact computer boards roughly the size of a credit card. The Pi was first designed to be a user-friendly alternative to more complicated computer boards but giving the same high specification output, allowing for the customer to do whatever they want with it. Whether you're planning on introducing programming to children, or an engineer looking to make a complex-controlled system, simply plug into a monitor, keyboard, mouse and power supply and you're ready to go.
This exclusive 8-piece Raspberry Pi 4 starter kit from OKdo includes everything you need (it really does) to get going in the world of Raspberry Pi– from all the hardware in a single box, to access to an online step-by-step guide as well as projects to get up and running faster than ever, effortlessly.
OKdo Raspberry Pi 4 4Gb Model B Starter Kit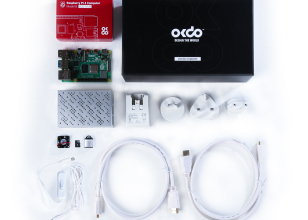 Included in the kit
• Raspberry Pi 4 Model B 4GB board.
• 5.1v Power supply with 4 x interchangeable mains adaptors.
• USB to USB-C cable with in-line switch.
• 2 x Micro HDMI to HDMI cables.
• SanDisk 3D Gen3 X3 256Gb 2-Plane NAND Flash Die for 32GB MicroSD Card. (with NOOBS 3.1.1 preloaded)
• SD card reader.
• 3 x Heat sinks.
• Aluminium Raspberry Pi case with an integrated fan.
Piper Computer Kit 2
The Piper Computer Kit includes everything needed to teach students about computer science, electronics, and coding through Piper's StoryMode using the Raspberry Pi Edition of Minecraft, and PiperCode using Google's Blockly. Ideal for ages 8+.
FULLY IMMERSIVE SOFTWARE
Pipercode
PiperCode uses Blockly by Google, a drag & drop coding language that enables students to modify and change how their electronics work on the Raspberry Pi. PiperCode includes preloaded projects that allow students to code and program physical electronic games!
Story Mode
Learners explore the virtual world of the Raspberry Pi Edition of Minecraft and learn electronic concepts through engaging interactive game levels. Discover new planets, make friends with intergalactic heroes, Pip and Piperbot, and inspire confidence in STEAM to make gaming a valuable and educational experience.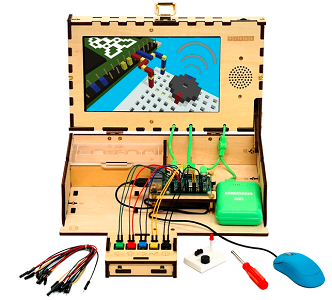 FEATURES
25+ laser-etched wooden and acrylic pieces
50+ hardware pieces
20+ electronic components
9″ LCD display with HDMI cable
7800 mAh rechargeable battery
Integrated speaker
16GB MicroSD card
Raspberry Pi 3 Model B
Phillips-head screwdriver
Wi-Fi Software Updates
8 square foot laminated blueprint
USB Mouse