All your security needs in one product
Get the unmatched feeling of security with award-winning protection against hackers, viruses and malware. Plus payment protection and privacy tools that guard you from every angle on every device.
With all their apps & devices – plus all the websites they visit – it takes a lot to protect your family from hackers, attackers and ransomware.
Kaspersky Total Security 2020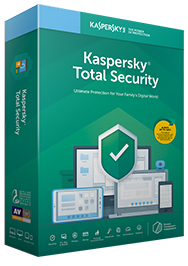 Included premium features:
FREE VPN with up to 300 MB of traffic per day
FREE Kaspersky Password Manager Premium
FREE Kaspersky Safe Kids Premium
From £39.99    Shop Now
Kaspersky Total Security
Giving you & your family the ultimate protection – on PC, Mac & mobile.
Kaspersky Total Security helps protect your family – when they surf, shop, socialise or stream. Plus, extra privacy protection securely stores their passwords & key documents… protects files & precious memories… and helps safeguard kids from digital dangers.
Protects privacy, passwords, files & photos
Protects money when you bank & shop online
Protects your children… online & beyond