Get the lightest and sleekest Surface laptop.
Make the most of every day with the sleek style, performance and all-day battery life¹ you need in Microsofts lightest Surface Laptop range, all at an exceptional value.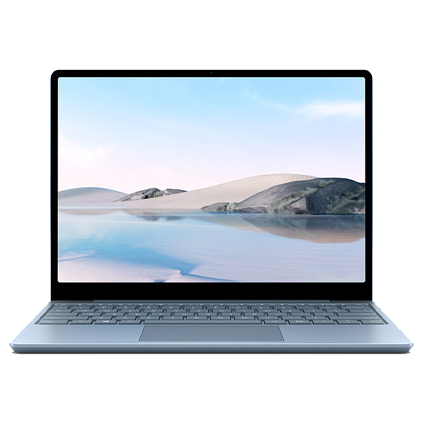 Lightest Surface Laptop, 12.4" PixelSense™ 1536 x 1024 (148 PPI) display and interactive touchscreen
Best for focused everyday productivity and streaming
Instant On and Fingerprint Power Button for password-free One Touch sign-in on selected models
The Microsoft Store Promise for Surface
Find the best of Surface at Microsoft Store: free standard shipping and returns, price promise, 90 days free technical support and more.
Special pricing is available for eligible students, parents and teachers.
Combine cleverly with the Surface Laptop Go Essentials Bundle
This bundle includes your choice of Surface Laptop Go and a 15 month Microsoft 365 subscription for the price of 12. Additionally, you can save 20% on optional accessories like pen, mice, headphones or dock and up to 50% on a range of cases and sleeves.
Sleek design and standout value
The lightest Surface Laptop features the signature 3:2 aspect ratio that helps you see and do more, all on a 12.4″ PixelSense™ touchscreen, in premium materials and choice of colours.
Familiar features and trusted Windows Hello security
One-Touch sign-in with the Fingerprint Power Button on selected models, all-day typing comfort on the full-size keyboard, and immersive Omnisonic sound, backed by Dolby® Audio.
Get it done with your favourite apps
Collaborate, connect and do your best work. Power through your favourite apps*,2, backed by all-day battery life,1 10th Gen Intel® Core™ Processor and up to 8GB RAM.
Do more with Windows 10 and Microsoft 365
Wherever you go, whatever you do, fuel your ideas with the power of a next-gen Surface Laptop standing ready. With its powerful Intel® Core™ processor, Fast Charging, all-day battery [1] and Instant On, get back to study or work whenever inspiration strikes. With Windows 10 Home [2], enjoy familiar features like password-free Windows Hello sign-in. Keep photos and files safe in the cloud with integrated OneDrive.
[1] Battery life
Up to 13 hours of battery life based on typical Surface device usage. Testing conducted by Microsoft in September 2020 using preproduction software and preproduction Surface Laptop Go 10th Gen Intel® Core™ i5 processor, 128GB, 8 GB RAM Microsoft Surface® Edition devices. Testing consisted of full battery discharge with a mixture of active use and modern standby. The active use portion consists of (1) a web browsing test accessing 8 popular websites over multiple open tabs, (2) a productivity test utilising Microsoft Word, PowerPoint, Excel, and Outlook, and (3) a portion of time with the device in use with idle applications. All settings were default except screen brightness was set to 150nits with Auto-Brightness disabled. Wi-Fi was connected to a network. Battery life varies significantly with settings, usage, and other factors.
[2] Surface Laptop Go for consumers comes with Windows 10 Home in S mode to bring you the powerful Windows features you use most at an exceptional value. If you need additional enterprise management and security tools for the workplace, you can switch to Windows 10 Pro or purchase a Surface Laptop Go for Business.
Windows 10 Home in S mode works exclusively with apps and programs from the Microsoft Store within Windows and accessories that are compatible with Windows 10 Home in S mode. A one-way switch out of S mode is available. Learn more at Windows.com/SmodeFAQ.
[3] System software uses significant storage space. Available storage is subject to change based on system software updates and apps usage. 1 GB = 1 billion bytes. 1 TB = 1,000 GB. See Surface.com/Storage for more details
[4] Colours are available on selected models only. Available colours and sizes may vary by store, market, and configuration.
[5] Surface Laptop Go display has rounded corners within a standard rectangle. When measured as a standard rectangular shape the screen is 12.4" diagonally (the actual viewable area is less).
All prices quoted are correct as of 1st July 2021 and are subject to change. Deals and Discounts are not applied unless otherwise stated. Products available through the Microsoft Store, Software4Students are a Microsoft Affiliate, please see our disclaimer for more information.  All images used are for illustration purposes only.